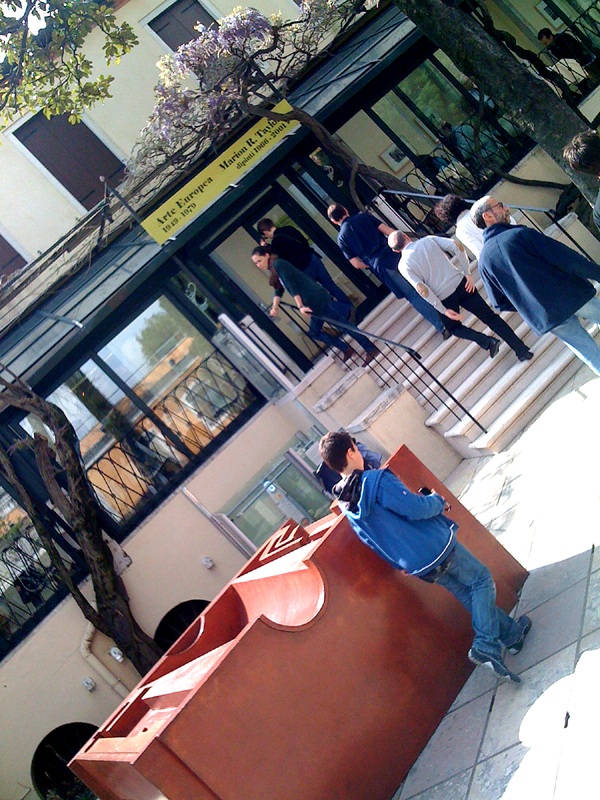 The Peggy Guggenheim Collection in Venice  (29 February to 6 May 2012)  – an exhibition entitled "European Art: 1949-1979/Marion R Taylor: Painting, 1966-2001″.
One of the exhibition's rooms is dedicated to Marion Richardson Taylor (d. 2010), an American artist (she lived in Europe). The wife of a diplomat, she was known for hosting political figures and intellectuals at her legendary dinner parties. Her artistic styles switched between abstract expressionism, portraits, and small sized drawings. Taylor constantly had to rethink her art – which gives the viewer of this retrospective the impression that Marion Taylor lacked direction or intellectual conviction in her art – maybe this exhibition underlines that well known fact that it is not what you know but who you know that counts.
Highlights:
There is so much art in Venice to see – I must admit I  neglected most of the  galleries except the Guggenheim (Palazzo Venier dei Leoni) where Peggy Guggenheim lived and which has a couple of great Pollocks, my favorite being Two, 1943–45 and a typical Bacon (Study for Chimpanzee) in the European Art exhibition. It was also great to see a slashed canvas of  the Italian artist Lucio Fontana (1899-1968). The simple act of slashing a canvas would now be a pointless excercise but during his time this was a dramatic statement about art and painting.
Just make sure you get invited to the right dinner parties…
The walk around the galleries and grounds of the gallery got me thinking about the role of women in art during the mid 20th century. There were other women who shaped this era (like Peggy Guggenheim) they were supporters and defenders of art and artists . One that came to mind was Lee Krasner the wife of the drunken womaniser Jackson Pollock.
"My own image of my work is that I no sooner settle into something than a break occurs. These breaks are always painful and depressing but despite them I see that there's a consistency that holds out, but is hard to define."
Lee Krasner
Lee Krasner would often cut up her drawings and paintings to create collages – revising, revisiting and discarding. She had exacting standards and constantly edited and reassessed her work, consequently her catalog of surviving artworks (published in 1995) lists only 599 known pieces. She was rigorously self-critical and this critical eye is believed to have been important to (her husband) Jackson Pollock's work.
Within a creative partnership (containing two creative souls) there is always a hierarchal tipping point.
The individual who creates the most waves within the public domain automatically become the dominant figure. The perception of achievement and value automatically encircles the 'socially successful' individual. Within these partnerships the minor player is in many cases the glue that binds the success together. History always plays down this importance.
"With Jackson there was quiet solitude. Just to sit and look at the landscape. An inner quietness. After dinner, to sit on the back porch and look at the light. No need for talking. For any kind of communication."
Krasner had a crisis of identity – being both a woman and the wife of Pollock, the public and artistic perception of her role as wife and artist lead her to sign her works with the genderless initials "L.K." instead of her more recognizable (public) full name. The daily give-and-take of the partnership between Pollock and Krasner stimulated both artists. They both fought a battle for legitimacy and individual expression and opposed old-fashioned, conformism and its repressive culture…
…but which one drove the successful partnership?
Other woman artists linked to the Abstract Expressionism  movement included:
Helen Frankenthaler, a major contributor to postwar American painting scene exhibiting her work for over six decades (early 1950s until 2011).
Joan Mitchell was a "second generation" abstract expressionist painter and an essential member of the American Abstract expressionist movement, even though much of her career took place in France.
Grace Hartigan  was the only woman artist in the Museum of Modern Art's legendary The New American Painting exhibition which toured Europe in the late 1950s.
---
Related articles