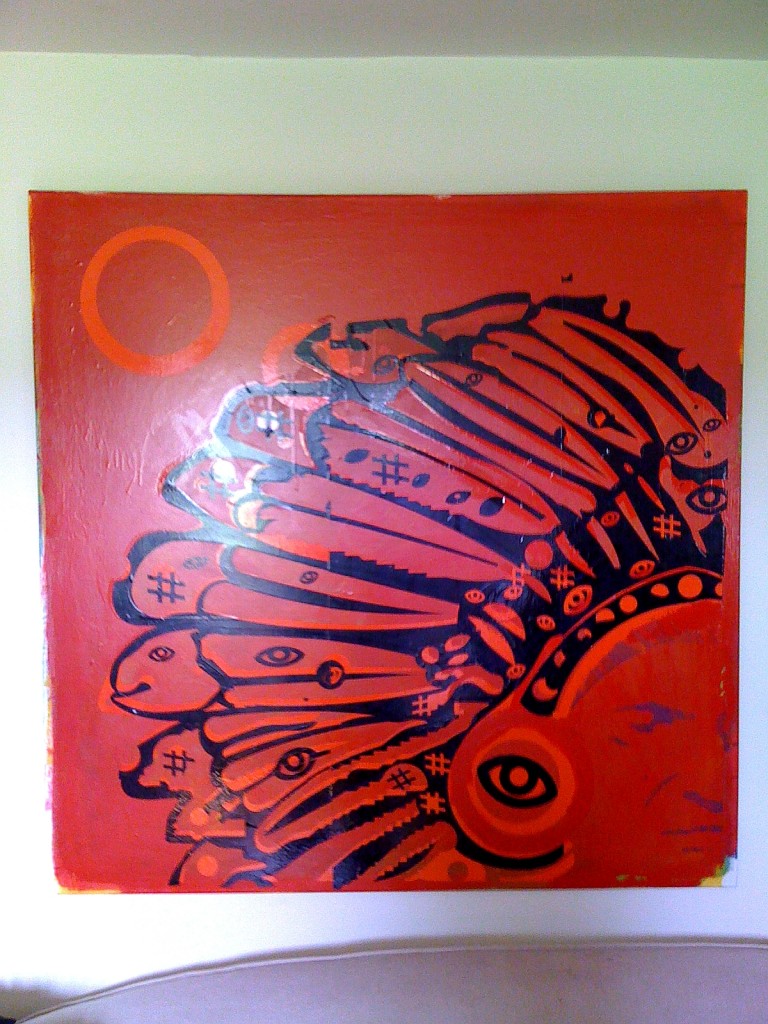 This painting was painted around 2002 / 03 by Peter Bright (aka This Window)
I hadn't seen this painting for nearly 10 years – until yesterday…
Materials
Organic: Commercial oil based paints mixed with animal fat and traditional oil paints. Emulsion paints mixed with traditional acrylic/watercolour/gouache paints
Synthetic: Commercial and domestic self-adhesive vinyl tape, cut with a commercial computer based design/cutting program, using  Signlab v.4.95 software package.
Prediction

= the aesthetics of the system + the aesthetics of failure =

Prediction
Background:
Upon moving to New York City, Frank Stella reacted against the expressive use of paint by most painters of the abstract expressionist movement, instead finding himself drawn towards the "flatter" surfaces of Barnett Newman's work and the "target" paintings of Jasper Johns. He began to produce works which emphasized the picture-as-object, rather than the picture as a representation of something, be it something in the physical world, or something in the artist's emotional world.
Many of his works were created by simply using the path of the brush stroke, very often using common house paint.
I was using vinyl, a material I have used commercially, as my preferred medium. The "plasticness" of commercial vinyl tapes, their tactile and glossy qualities make them vibrant and alive; when juxtaposed against natural materials or organic shapes and colors they become a contradiction, a complement, more intense and more synthetic……which is similar to Frank Stella's work during the 1980's 4 . I carried out experiments with this vinyl material; I have cut and slashed it to destruction, to gain a better understanding of the inherent stability of this medium. I have rejected the possibilities of cutting out images and shapes by hand…..the aesthetics of the system was more important.
Is it acceptable to splatter words on a page and call it optimization?  Organic and Synthetic Link to final Art Proposal… Continue reading →
Related articles